Tian Wang Men's metchanical watch full 316SS solid full automatic free shipping 24 hour dispatch GS5704S/D
US$ 617.87/piece
Tian Wang Men metchanical watch full 316L full automatic tungston sharp design bezels free shipping 24 hour dispatch GS5703S/DD
US$ 555.50/piece
full-automatic Men business occasion steel watch gs5705t dd
US$ 325.08/piece
luxury double calendar fully-automatic mechanical mens watch gs5705s/dd
US$ 307.88/piece
                                                      Main Features:  1. ISA Multi-function Sports Movement with 3eyes design, and the finest TIAN WANG craftsmanship.  2. Specially designed with Stainless Steel Case and Stainless Steel Solid Band. Side Press releasing buckle;  3. Water resistant up to 50 meters (Daily life water proofing).  4. 12 months International Warranty      Specification (approximate):  -Case Diameter: 4.2cm  approx.   -Case Thickness: 11mm approx.  -Case Material: Stainless Steel-Band Length: 21.4cm approx. (buckle included) -Band Material: 316L fine Steel -Item Code: GS5756S/3D-B (Black Dial); GS5758S/3D-A (White Dial) Package Included:-       1 x Genuine "TIAN WANG" Watch -       1 x Gift Box -       1 x "TIAN WANG" Warranty Card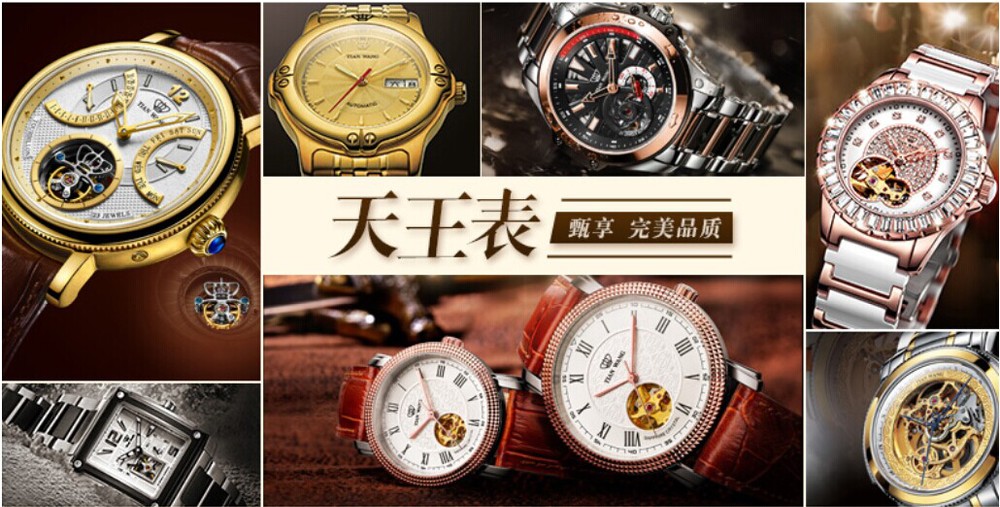 Common knowledge for maintenance of wrist watch
Waterproof tips: in using process, waterproof property of wrist watch may be damaged due to ageing of sealing ring or impact of external force. So, please do not operate crown or timing button in water to prevent entry of water into components of wrist watch. After swimming, please use clean water to wash your wrist watch and dry it completely. It is not appropriate to wear any waterproof watch in having a hot water bath or sauna bath or environment with great changes to temperature so as to prevent accelerating ageing of sealing ring, which will influence its sealing property.
Anti-magnetic tips: avoid the contact of wrist watch with strong magnetic field. In case of placing it beside the appliance with production of strong magnetic field or objects of strong magnetic, it may cause inaccurate timing.
Chemical prevention: as chemical solvent, detergent, perfume and cosmetic may damage watchcase, strap or surface coating, please avoid the contact of wrist watch with such chemicals directly.
Cleaning method: in cleaning metal watchcase and strap, please use soft toothbrush to wash it with soap water and then dry it with soft cloth. Before cleaning, it must ensure crown and button at working position or locking position.
Replace battery: immediately replace battery if without inadequate power to avoid causing damage to movement due to leakage of electrolyte.
Environmental protection: please do not throw away used battery or parts of wrist watch at will to avoid causing pollution to environment.
Customer Service
China Landline: 86-755-85298833-ext.-8775
International:+86-17704068309
luxury double calendar fully-automatic mechanical mens watch gs5705s/dd
US$ 307.88/piece
TianWang Luxury mechanical watch for Men GS5613S/DD
US$ 1546.67/piece
TianWang fully-automatic waterproof Men's casual strap watch GS5752S/D
US$ 649.98/piece
Fully-automatic waterproof commercial Men's Watch GS5748S/D
US$ 517.54/piece